Project, Schmoject. Or is it?
Project Management is frequently mentioned, many companies insist on hiring certified project managers. What's behind the hype? A useful definition of Project Management is:
Project management is a methodical approach to planning and guiding project processes from start to finish. According to the Project Management Institute, the processes are guided through five stages: initiation, planning, executing, controlling, and closing. Project management can be applied to almost any type of project […]
What this definition doesn't illustrate is the
management process
introduced through project management. That, in my opinion, is the biggest advantage of project management over most other management methods. In a well-established project management environment, people get invited into a project — and they participate and contribute because they
want to
as opposed to a typical, hierarchical line organisation where they
have to
. With Project Management, dotted line reporting and inter-departmental communications become highly important. Only if the project team, that typically doesn't report directly to the project manager, is committed and focused, will the project be successful.
---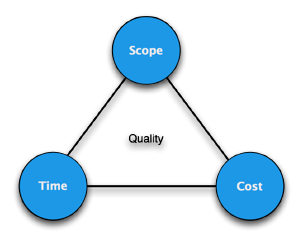 The magic triangle of Project Management:
Without good project management, it is often a major challenge to achieve all three targets. Example: It can be done on time and within the cost frame, but only part of the scope is implemented (feature-drop).
Quality is achieved when all three constraints, i. e. time, cost and the scope have been met.
---
Two excellent sources for information on Project Management are